Duty Exemption Schemes Service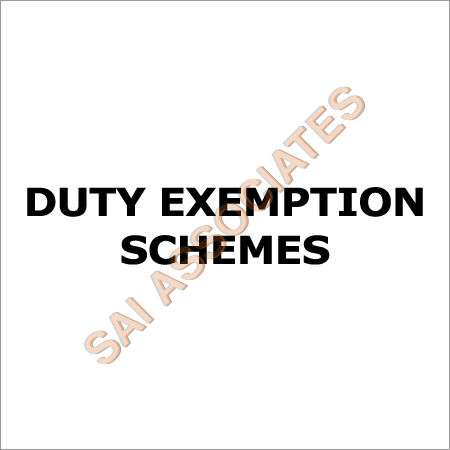 Duty Exemption Schemes Service
Service Code : DESS 04
Brand Name : SAI ASSOCIATES
Located at New Delhi, India, we are working with diligence in rendering quality oriented Duty Exemption Schemes Service. We take proper responsibility of handling various professional activities through advices and technical mantras. We hire only experienced professionals and enable free import of various inputs demanded in export production. Also, we are committed in providing utmost satisfaction to clients as per their needs. This Duty Exemption Schemes Service can be availed at marginal prices.

Key points:
Issue advanced authorization for physical as well as deemed exports
Employ advanced methods of management
Attempt best in providing utmost satisfaction to clients

Duty Exemption Schemes

We offer wide range of Duty Exemption Schemes. Ensuring perfect handling of every professional activity, various consultancies have mushroomed abundantly. However, only those survive which offer high-end services, technical advices, and sure shot mantras to success in every business.
DUTY EXEMPTION SCHEMES

Duty Exemption Schemes enable duty free import of inputs required for export production. A Duty Remission Scheme enables post export replenishment / remission of duty on inputs used in the export product. Goods exported under Advance Authorisation / DFRC / DEPB may be re-imported in the same or substantially the same form subject to such conditions as may be specified by the Department of Revenue from time to time.

Advance / Advance Intermediate Authorization

An Advance Authorization / Advance Intermediate Authorization is issued to allow duty free import of inputs, which are physically incorporated in the export product. In addition, fuel, oil, energy, catalysts etc. which are consumed in the course of their use to obtain the export product, may also be allowed under the scheme.

Advance Authorization can be issued for:-

Physical Exports;
Intermediate Supplies;
Deemed Exports;
DEPB
The objective of Duty Entitlement Pass Book (DEPB) is to neutralise the incidence of Customs duty on the import content of the export product. The neutralization shall be provided by way of grant of duty credit against the export product. Under the DEPB, an exporter may apply for credit, as a specified percentage of FOB value of exports, made in freely convertible currency.
DEPB Scheme has been extended till May, 2009.
Duty Free Replenishment Certificate (DFRC) shall be available for exports only up to 30.04.2006. This scheme is being replaced by the Duty Free Import Authorization (DFIA) w.e.f. 01.05.2006.
Trade Information
Payment Terms
Cash in Advance (CID), Cheque, Others
Main Domestic Market
All India